within | without
exhibited books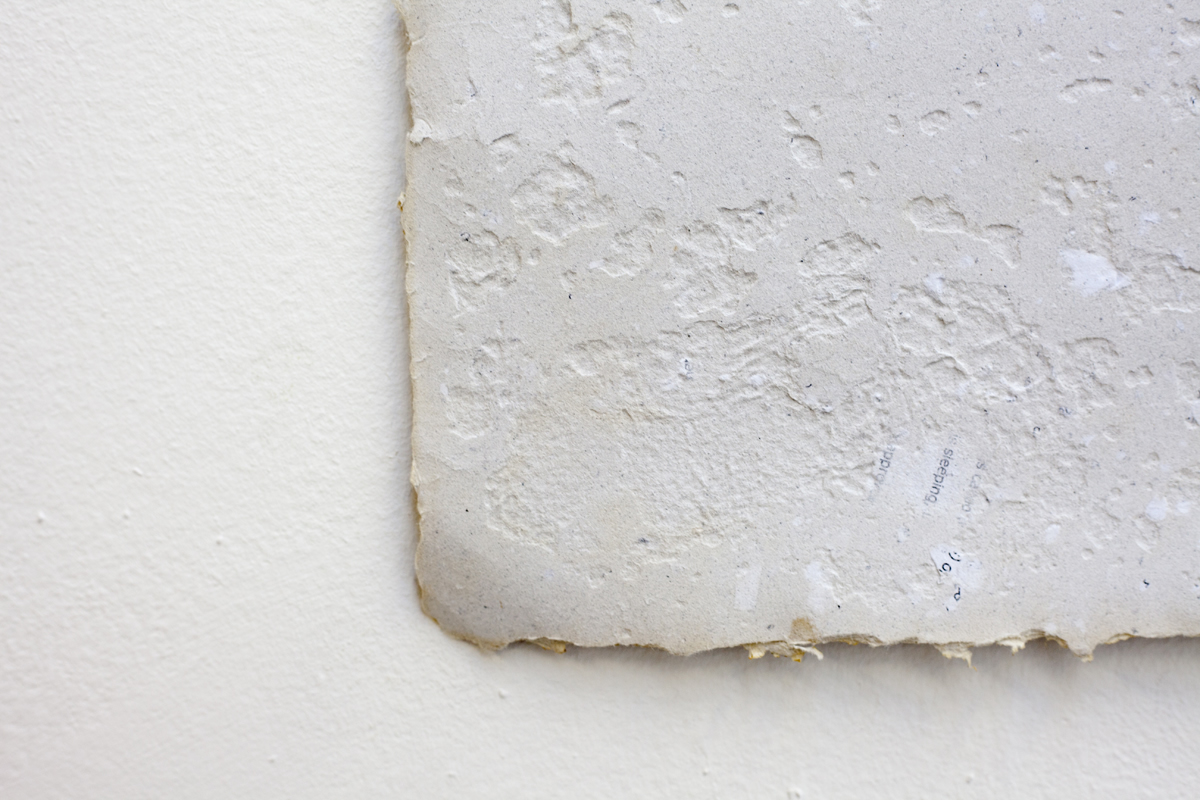 Rajyashri Goody
Set of Five Recipe Books, 2018 signed limited edition
'Is the Touch upon the Tongue Wonderful?', 'Do you Tire of the Same Meal Everyday?', 'Have you Lost all Taste?', 'Is Hunger Gnawing at you Belly?', 'What is the Price of your Sweat?'
Various references to food from five different books by Dalit writers have been extracted, interpreted, and transformed into 'recipes' in an attempt to contextualise and complicate the notion of cookery books. Each recipe book is an ode to Dalit literature as well as Goody's own roots. They also comment on the restrictive nature of cookbooks, particularly in light of Dalit food practices.
Shahana Rajani and Zahra Malkani with Abeera Kamran
Exhausted Geographies Vol. 1, 2015, Signed first edition
Exhausted Geographies Vol. I is a radical engagement with the politics of representation and map-making in order to explore and produce new ways of seeing and imagining cities in the global south. This publication is a collection of 7 maps, each coupled with an essay, contributed by artists, architects, historians, urban planners, geographers and anthropologists working on/in Karachi. It is a coming together of different situated and localised knowledges to enable an exchange of ideas and methodologies beyond the borders of the academy and the art world. Using artistic and interdisciplinary research methods, the contributors subvert mapmaking into an open and critical medium to produce visual representations of space, temporality, politics and human relationships.
Shahana Rajani and Zahra Malkani with Abeera Kamran
Exhausted Geographies Vol. 2, 2017
Exhausted Geographies II engages with landscapes at the intersection of infrastructure, war and ecological crisis in Karachi. These books map the city through a new road named Jinnah Avenue, through the rusting remnants of railways, in the debris of what was once a mountain, in disappearing bodies of water, and against the ubiquitous borders proliferating across its landscape. These neo-colonial transformations, influenced by transnational networks of power, finance, and capital, are entangled with the military apparatus and take place in spaces of constructed invisibility. This volume looks at the ways in which war and development manifest in these invisible landscapes and are sustained through environmental violence in the name of the nation-state.
Fazal Rizvi
The Dead Tigers of British India, 2018
In The Dead Tigers of British India, Rizvi brings together images of tiger hunts and other archival material featuring tigers and lions from the colonial period in India. The image of hunting, which became a metaphor for colonial rule, is critiqued by Rizvi as a symbol that celebrates the subjugation of one, at the hands of another. The publication was produced alongside an installation of seven 3D printed tiger paws modeled after the legs of Tipu Sultan's throne.
Fazal Rizvi
Kedgeree, 2017
This publication is part of a larger project, also called Kedgeree that examines the current usage of the English language in the subcontinent, alongside its colonial roots. The project revolves around the artist's feelings of embarrassment at his father's inability to speak English fluently. He hopes to examine and challenge the enduring and indelible connection of the English language to issues of class and education in the subcontinent. In the publication, the artist utilises the dictionary format to list a series of carefully selected words and their meanings to iterate ideas of shame, guilt and a fractured sense of self.
Fazal Rizvi
Fluid Frontiers- Museum of Speculated Objects, 2016
Fluid Frontiers is the first in a series of exhibitions that took place at the fictitious 'Museum of Speculated Objects' (Rizvi's longterm project). The exhibition presents a collection of tangible (and intangible) objects that were found floating and/or submerged within the Arabian Sea. Through research and imagination, narratives and moments have been woven around each of these found objects. This 'exhibition guide' helps traverse the fluid yet distinctly marked (and tense) maritime borders between India and Pakistan.
Fazal Rizvi
Within a vessel, Upon a vessel, 2016
The publication Within a vessel, Upon a vessel was commissioned by The New Art Gallery Walsall, in 2016 along with a video projection. This marked the beginning of what is Rizvi's ongoing engagement with maritime borders. This particular publication meditates on and traverses through multiple iterations of the word vessel. The boat, as an object and the body as a vessel floating (and breathing) through space and time.
Fazal Rizvi
Muree Water Works – Museum of Speculated Objects 2, 2017
During the summer of 2017, The Museum of Speculated Objects, was invited by the Murree Museum Artist Residency, to critically examine the running of Muree Water Works. Through objects, instances, anecdotes and field research, the 'exhibition' hopes to make visible, the failures, inadequacies and the inefficiencies of the water supply system in Muree upon which the local population is dependent.